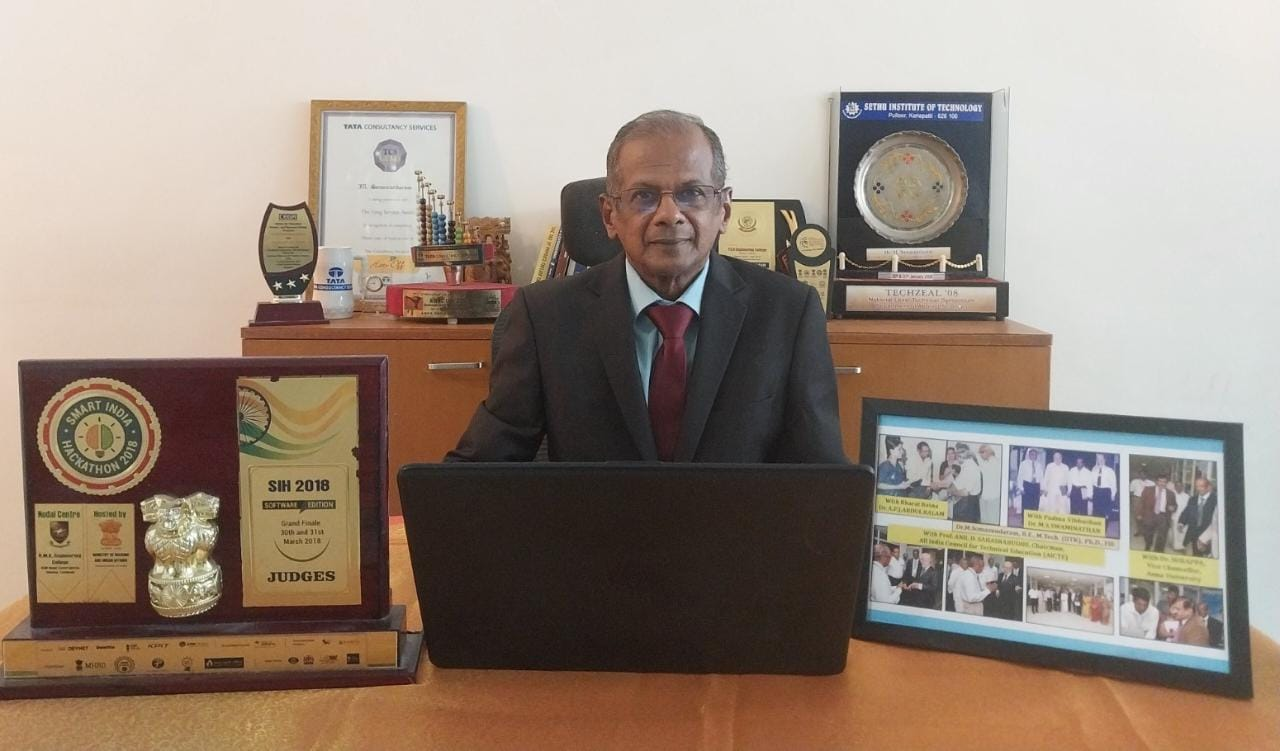 Dr.M.SOMASUNDARAM
DEAN – RESEARCH, JAYA GROUP OF INSTITUTIONS
E-mail ID: dean.research@jec.ac.in
I take pleasure in welcoming you to the website of the institution, which is a part of the Jaya Group of Institutions with 46+ years of excellence. The Group encompasses almost all academic disciplines – Medicine & Surgery, Engineering, Technology, Business Administration, Commerce, Dentistry, Paramedic, Life Sciences, Pedagogy (Teacher Education), Hospitality, Media, Culture, etc.
Research & Development activities help the students to develop technical skills as well as the soft skills in Innovation and Entrepreneurship. Such skills are very much required for students in any future career they pursue – in the industry, academics or entrepreneurship.
Research & Development activities include Research paper publications, Innovation Contests, establishing startup companies, acquiring Intellectual Property Rights (IPR), (including patents), collaborative research / product development with industry, activities in Centers of Excellence (CoE), research projects with external funding and others.
As the Jaya Group encompasses almost all academic disciplines, it opens up possibilities of Research & Development in each of these fields as well as inter disciplinary fields by collaborating across institutions within the Group.
With the educational system going through many advancements like adoption of Outcome Based Education (OBE),   accreditation by NAAC / NBA, Ranking by NIRF, ISO 21001: 2008 Educational Organisations Management System (EOMS) etc, the emphasize in Research & Development has been increasing continuously.
Our faculty members and students are actively involved in such initiatives and I welcome more students to take active involvement in these initiatives.
Profile of Dr. M. Somasundaram:
Educated in College of Engineering , Guindy (B.E./ ECE) and IIT Kanpur (M.Tech.); Completed Ph.D. in Anna University in the Faculty of  Information and Communication Engineering. (ICE)
Worked in academic industry for over 13 years and IT industry for over 25 years :
Was awarded 'VISIONARY LEADER OF THE YEAR 2022 by Centre for Education Growth and Research (CEGR) for outstanding and exemplary contribution towards Education, Skill Development and Research
Published more than 30 research papers in international journals in the area of Wireless Body Area Networks, Artificial Intelligence and Engineering Education.
Served as Innovation Ambassador in R.M.K. Engineering College (2009 – 2022); Participated in Smart India Hackathon organized by AICTE and MoE in various roles: Team Mentor (2017), Judge (2018), Evaluator (2022) and AICTE Representative in Product Design and UX /UI Design (2022).
Coordinated the Centers of Excellence of Artificial Intelligence & Data Science (CoE) (2018 – 2021) and Digital Enterprise (Mobility) Centre of Excellence (CoE) (2014 – 2018) of RMK Group of Institutions
Served in R.M.K. Engineering College as ISO 9001: 2015 Quality Management System (QMS) Management Representative and IQAC Coordinator; Trained as QMS Lead Auditor ISO 9001: 2015: Registered with IRCA
Served in Tata Consultancy Services (TCS) (1986 – 2009) in various roles in Software Development, Project Management, Software Tools Development and support to projects, Client Relationship and Innovation Labs for global clients with visits to various client sites in USA, UK, Switzerland, Germany, etc.
Served as Head, Innovation Lab for Insurance in Tata Consultancy Services (TCS) and developed innovative tools and products for global clients.
Served in Tata Consultancy Services (TCS) for the development and implementation of Computer Based Functional Literacy (CBFL) Program for Adult Literacy as TCS's Corporate Social Responsibility (CSR) initiative; Had the opportunity to interact and work with Dr.A.P.J. Abdul Kalam and the eminent scientist Dr.M.S.Swaminathan
For more details, please refer the Linkedin profile and Google Scholar details as below:
https://in.linkedin.com/in/dr-muthuvel-somasundaram-27662114
https://scholar.google.com/citations?user=nEw-FsgAAAAJ&hl=en&oi=sra