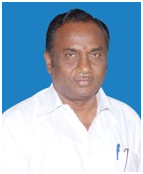 Prof.A. Kanagaraj M.A., M.Phil.
Chairman
Delightful task! to rear the tender thought;
To teach the young how to shoot;
To pour the fresh, instruction over the mind ;
To breathe the enlivening spirit, and
To fix the generous purpose in the glowing heart.
-Thomson, Sp. 1149
Count your chick before it hatches"
says an old Adage. Our JAYA ENGINEERING COLLEGE is gearing-up such skills to the budding Engineers. In this wide arena of competition, we would like to enable Engineering aspirants with more calibers and more innovation.
World Class Laboratories, Tireless Professors, High-Sounded Placement Cell, International Seminars, National Level Symposiums, Igniting Projects are the strong pillars of Jaya Engineering College. Our qualified professors are remaining candle in educational service to lead them for a Bright Future. I assure that 45 years of educational service has its own Pensive Meditation and Epitomized Achievement in the Speculation of perfect Engineers.