COMPUTER SOCIETY OF INDIA
The student chapter of the Computer Society of India, Jaya Engineering College was inaugurated on 9th of August 2007 at the Albert Einstein Auditorium.
The function began with the welcome address rendered by the college principal Prof. Dr. G. S. Kandasami. The importance of CSI was highlighted upon and also its services that can be made use by the student fraternity was brought to light.
This occasion was presided by Mr. D. Swaminathan, Chairman, CSI – CHENNAI CHAPTER. He illustrated the note worthy efforts taken by CSI in order to constantly provide knowledge and key area support to engineers all over the country. CSI has not just evolved as a powerful community but also a boon to mankind as a whole. Directors and HOD of CSE and IT departments are preside over the function.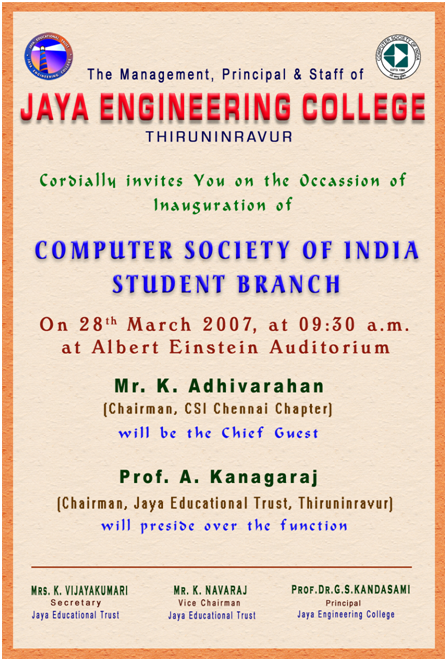 The faculty co-ordinator for the student chapter then formally proposed the list of activities that are in the pipe-line. It included workshops and guest lectures, faculty development program, a national level conference on web technology and open source, a Linux demo day in association with the
FOSS (Free and Open source software)
club of Jaya Engineering College.
This was commemorated with a formal vote of thanks delivered by the Student Chairperson of the CSI chapter, JEC.
In the academic year July 2015 – June 2016, 84 students have the membership for Society of instrumentation professional. It established in 1970, headquarters at INDIAN INSTITUTE OF SCIENCE (IIS), BANGALORE.
It acts as the link between academic institutions and instrumentation industry by organizing several programs. It also conducts programs for students and working professionals in the form of short term courses, symposium and topical reviews
IEEE Institutional Membership and ISTE student chapter are started in the year 2002.