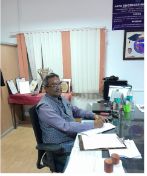 Dr. S. Rajendran, M.E., Ph.D
PRINCIPAL
Jaya Engineering College, Chennai – 602 024.
E-mail ID: principal@jec.ac.in
Jaya Engineering College is a good infrastructure and an experienced and efficient administration. The college came into existence with the vision of creating a safe and supportive environment for its students to provide a perfect balance of academics, sports, artistic and social opportunities. Jaya Engineering College genuine concern ensures students' emotional growth along with intellectual excellence. This empowers them to develop their self-esteem, awareness and confidence. Sharing ideas, analyzing situations and expressing them confidently are essential skills which are honed here, through Learning, Counseling and Motivation. We have an Entrepreneurship Development Cell to inculcate research culture and enterprising skills among the students and faculty. We also have various professional bodies to work closely with the industrial leaders to get their expertise and professional values.
We have been making greater interaction with the Industry in providing student projects, workshops, seminars, in-plant-training and placement. While studying at the college, the students are groomed to become confident, articulate and enlightened young citizens, ready to step into global society with dignity, honor and integrity. We believe in giving our students strong values along with a set of wings which may carry them far and wide. In other words, our students are equipped to face the challenges of the rapidly changing world.
We rear students who are creatively curious and strive to experiment and innovate new things on both academic and non-academic fronts. We seek to develop and nurture the different facets of a student by providing facilities for sports and cultural activities. The activities provide holistic grooming to the student wherein the student is able to explore his/her true potential enabling him/her to become a smart and confident citizen.