The Training & Placement Cell plays a crucial role in scouting for and locating job opportunities for the young graduates and post graduates passing out from the college by keeping liaison with reputed firms and industrial establishments.
It functions under the supervision of a full time Training and Placement Officer. The placement cell operates round the year to facilitate contacts between companies and graduates.
The number of students who are placed through the campus placements is continuously rising. On invitation, many reputed industries visit the institute to conduct campus interviews.
Career Guidance Programme
The Placement Cell of JEC organizes career guidance programs for the students. The cell arranges training programs like Aptitude Training, facing the interview, group discussions, soft skill trainings, etc.
The Placement Cell also invites HR managers from different industries to conduct training programs for our students.
Placement Record – 2014
(We the Management, Principal,Administrative Officer, Head of the Departments and Faculties feel happy and privilege to congraulate all Placed Students).   
Students Placed in 2014
| S.NO | STUDENT NAME | DEPARTMENT | COMPNAY NAME | BATCH |
| --- | --- | --- | --- | --- |
| 1 | MOHAN | IT | INFOSYS | 2014 |
| 2 | ABDUL KALEEM KHAN | IT | INFOSYS | 2014 |
| 3 | VAIDEHI RAVICHANDRAN | IT | INFOSYS | 2014 |
| 4 | YESWANTH KUMAR | IT | INFOSYS | 2014 |
| 5 | PRIYANKA VENKATESAN | IT | INFOSYS | 2014 |
| 6 | A.M.BAALA KRISHNAN | B.Tech I.T | CTS | 2014 |
| 7 | JANANI SUGUMAR | B.Tech I.T | CTS | 2014 |
| 8 | M.HITESH SOLANKY | B.Tech I.T | CTS | 2014 |
| 9 | DURAI HARI PRASAD | IT | CTS | 2014 |
| 10 | SATHYA GOPALAKRISHANAN | IT | CTS | 2014 |
| 11 | PRASANA SRINIVASAN | IT | CTS | 2014 |
| 12 | JOTHI KUMAR | IT | Burning Glass | 2014 |
| 13 | ARJUN SURESH | IT | Burning Glass | 2014 |
| S.NO | STUDENT NAME | DEPARTMENT | COMPANY NAME | BATCH |
| --- | --- | --- | --- | --- |
| 1 | BHASKAR GAYATHRI | CSE | CTS | 2014 |
| 2 | S.SOWMYA | CSE | CTS | 2014 |
| 3 | L.PREETHI | CSE | CTS | 2014 |
| 4 | REVATHY .V.K | CSE | Burning Glass | 2014 |
| 5 | SRIKRISHNA.N | CSE | Burning Glass | 2014 |
| S.NO | STUDENT NAME | DEPARTMENT | COMPANY NAME | BATCH |
| --- | --- | --- | --- | --- |
| 1 | SUJANA S | ECE | INFOSYS | 2011-2014 |
| 2 | AISWARYA GANESAN | ECE | INFOSYS | 2011-2014 |
| 3 | K.ABISHEK JAH | ECE | CTS | 2011-2014 |
| 4 | B.RAJASHREEE | ECE | CTS | 2011-2014 |
| 5 | THARUNIKA SRIDHAR | ECE | CTS | 2011-2014 |
| 6 | SAL KIRUPA | ECE | Burning Glass | 2011-2014 |
| 7 | NIRMAL KUMAR | ECE | SOUTHERLAND | 2011-2014 |
| 8 | DEEPIKA | ECE | SOUTHERLAND | 2011-2014 |
| 9 | PRAVEEN.V | ECE | SOUTHERLAND | 2011-2014 |
| 10 | BALACHANDER.G | ECE | SIGRAM ASSOCIATES | 2011-2014 |
| 11 | KRISHNA.G | ECE | SIGRAM ASSOCIATES | 2011-2014 |
| 12 | M.V.PAVITHRAN | ECE | SIGRAM ASSOCIATES | 2011-2014 |
| 13 | THANGARATHI | ECE | SIGRAM ASSOCIATES | 2011-2014 |
| 14 | REVATHI | ECE | SIGRAM ASSOCIATES | 2011-2014 |
| 15 | VIGNESH | ECE | SIGRAM ASSOCIATES | 2011-2014 |
| 16 | NIVEDHA.P | ECE | SIGRAM ASSOCIATES | 2011-2014 |
| 17 | VENKATESH.S | ECE | SIGRAM ASSOCIATES | 2011-2014 |
| S.NO | STUDENT NAME | DEPARTMENT | COMPANY NAME | BATCH |
| --- | --- | --- | --- | --- |
| 1 | GOLLAKUPPAM JAGAN | EEE | M/s.GOMS ELECTRICAL COMPANY | 2014 |
| 2 | DINESH KUMAR .K | EEE | M/s.GOMS ELECTRICAL COMPANY | 2014 |
| 3 | PRADEEP KUMAR .VM | EEE | M/s.GOMS ELECTRICAL COMPANY | 2014 |
| 4 | MANIVASAGAM .G | EEE | M/s.GOMS ELECTRICAL COMPANY | 2014 |
| 5 | RAKESH.S | EEE | M/s.GOMS ELECTRICAL COMPANY | 2014 |
| 6 | LOKESH.P | EEE | M/s.GOMS ELECTRICAL COMPANY | 2014 |
| 7 | SELVAKUMAR.M | EEE | M/s.GOMS ELECTRICAL COMPANY | 2014 |
| 8 | VISHNU.VS | EEE | M/s.GOMS ELECTRICAL COMPANY | 2014 |
| 9 | LIJJI PRASAD RAO.B | EEE | M/s.GOMS ELECTRICAL COMPANY | 2014 |
| 10 | G.SWATHY | EEE | CTS | 2014 |
| 11 | KUMARAN VENKATESAN | EEE | CTS | 2014 |
| 12 | SARAVANAKUMAR | EEE | CTS | 2014 |
| S.NO | STUDENT NAME | DEPARTMENT | COMPNAY NAME | BATCH |
| --- | --- | --- | --- | --- |
| 1 | Aishwarya.T.S | EIE | INFOSYS LIMITED | 2014 |
| 2 | Fathima Shehnaaz.J | EIE | INFOSYS LIMITED | 2014 |
| 3 | Santhosh Aravind.J | EIE | INFOSYS LIMITED | 2014 |
| 4 | R.Vishnu | EIE | SIGARAM ASSOCIATES | 2014 |
| 5 | T.R BharathKumar Prasanth | EIE | SIGARAM ASSOCIATES | 2014 |
| 6 | C.Baskar | EIE | SIGARAM ASSOCIATES | 2014 |
| 7 | R.Switha Jenith | EIE | SIGARAM ASSOCIATES | 2014 |
| 8 | A.Preethi | EIE | SIGARAM ASSOCIATES | 2014 |
| 9 | N.Preethi | EIE | SIGARAM ASSOCIATES | 2014 |
| 10 | S.V Subhasree | EIE | SIGARAM ASSOCIATES | 2014 |
| 11 | Prashanth | EIE | Voltech Engineering | 2014 |
| 12 | Sachin | EIE | Lister technologies | 2014 |
| 13 | Kanagavalli | EIE | Minacs | 2014 |
| 14 | Balaji | EIE | Sigma Byte AVIT solutions | 2014 |
| 15 | Rathish | EIE | Sigma Byte AVIT solutions | 2014 |
| 16 | Sathya Narayan | EIE | Sigma Byte AVIT solutions | 2014 |
| 17 | Venkatesan | EIE | Sigma Byte AVIT solutions | 2014 |
| 18 | S.Sai Swetha | EIE | Mobile tutor Pvt Ltd | 2014 |
| 19 | Juliana | EIE | Mobile tutor Pvt Ltd | 2014 |
| 20 | Preethi | EIE | HCL | 2014 |
| 21 | Chinmayi | EIE | CSS Corp | 2014 |
| S.NO | STUDENT NAME | DEPARTMENT | COMPANY NAME | BATCH |
| --- | --- | --- | --- | --- |
| 1 | HARISH . P | MBA | EDSS PVT LTD | 2014 |
| 2 | SIVAMANI .S | MBA | COVENANT INDIA | 2014 |
| 3 | GABRIYALA GALADY .P | MBA | COVENANT INDIA | 2014 |
| 4 | REVATHY | MBA | COVENANT INDIA | 2014 |
| 5 | PARTHIBAN.C | MBA | COVENANT INDIA | 2014 |
Cognizant Technology Solutions (CTS)
| S.NO | REGISTER NUMBER | NAME OF THE STUDENT | DEPARTMENT |
| --- | --- | --- | --- |
| 1 | 10610205013 | A.M.BAALA KRISHNAN | B.Tech I.T |
| 2 | 10610205033 | JANANI SUGUMAR | B.Tech I.T |
| 3 | 10610205030 | M.HITESH SOLANKY | B.Tech I.T |
| 4 | 10610106001 | K.ABISHEK JAH | ECE |
| 5 | 10610106071 | B.RAJASHREEE | ECE |
| 6 | 10610104014 | BHASKAR GAYATHRI | CSE |
| 7 | 10610104093 | S.SOWMYA | CSE |
| 8 | 10610104059 | L.PREETHI | CSE |
| 9 | 10610105046 | G.SWATHY | EEE |
Placement Record – 2009-10, 2010 – 11 & 2011-12
| | 2009-10 | 2010-11 | 2011-12 |
| --- | --- | --- | --- |
| Total No. of Candidates Registered | 622 | 821 | 820 |
| No. of Students Placed | 492 | 812 | 799 |
| No. of Offers Provided | 572 | 1265 | 1039 |
| No. of Companies Visited | 48 | 76 | 66 |
| Percentage of Placement | 79% | 99% | 98% |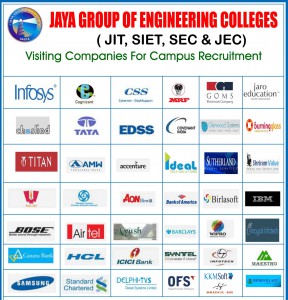 OUR SINCERE THANKS TO ALL OUR RECRUITERS
Ascendant Technologies, Chennai
Benchmark Broadcasting, Chennai
KLA – Tencor India, Chennai
Embedded UR, Chennai
HCL Infosystems, Noida
Honeywell India, Bangalore
Huawei Technologies, Bangalore
Informatica, Hyderabad
Logitech, Chennai
Mahindra Satyam, Hyderabad
MindTree Limited, Bangalore
Mphasis – HP, angalore
Odessa Tech, Bangalore
VeryX Technologies, Chennai
Vignani Technologies, Coimbatore
Wipro VLSI Division, Bangalore
Larsen & Toubro ECC, Coimbatore
L&T IDPL, Chennai
Marg Constructions, Chennai
Rishi Associates, Chennai
Saipem India, Chennai
Shobha Developers, Bangalore
Advanced Clothing Concepts, Coimbatore
Coats India, Chennai
DyStar India, Mumbai
KG Denim, Coimbatore
Gokaldas Exports, Bangalore
Lakshmi Machine Works, Coimbatore
Lakshmi Mills, Coimbatore
Madura Coats, Madurai
Madura Garments, Bangalore
Ashok Leyland, Chennai
Blue Star, Chennai
Bosch India, Bangalore
Brakes India, Chennai
Burning Class,Chennai
D&H Sachron, Mumbai
ELGI Equipments, Coimbatore
ETA Ascon India, Chennai
Larsen & Toubro Limited, Chennai
Lucas-TVS, Chennai
Mahindra & Mahindra, Mumbai
Quest Global India, Bangalore
Renault Nissan, Chennai
Sundaram Clayton, Chennai
Sundaram Fasteners, Che
Toyota Kirloskar, Bangalore
TVS Motors, Hosur
For further details, Contact:
Prof.P.Yuvaraman
Prof.R.Kesavan
Training & Placement Officer,
Jaya Engineering College,
CTH Road, PrakashNagar,
Thiruninravur-602024.TamilNadu.
Phone(Direct):044-26390982
Mobile:0-91-9444304384
Email:placement@jec.ac.in
Website:www.jec.ac.in