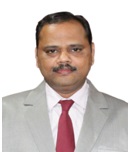 Dr. K. Samidurai, B.E., M.Tech., Ph.D., MISTE, FIE., C.Eng (I).
PRINCIPAL
Jaya Engineering College, Chennai – 602 024.
E-mail ID: principal@jec.ac.in
The principal of the college obtained B.E. degree in Electrical and Electronic Engineering in the year 1992 from Coimbatore Institute of Technology, Coimbatore. He finished his Masters in Power Systems in the year 2005 at National Institute of Technology, Tiruchirappalli. He was awarded Ph.D. degree in the year 2012 by the faculty of Electrical Engineering, Anna University, Chennai. He has 23 years of experience which includes 7 years of industrial experience and 16 years of academic experience. He worked for various companies located in India and the Middle East region. He has an expertise in the field of electrical switch gears, power systems and power electronic drives. He has published 8 papers in reputed International Journals, 3 in International Conferences and 4 in National Conferences.
He was a member in the execution team involved in design, erection and commissioning of some of the Mini hydel power stations established for the erstwhile state electricity boards of India. He is a Life time member of Indian Society for Technical Education [ISTE], New Delhi, a Charted Engineer [C.Eng (I)] and Fellow of Institution of Engineers India [FIE]. He has obtained a patent in the field of automotive electronics and filed two patents in the field of wind turbine control and wheel chair system for physically challenged. He is a recognized research supervisor of Anna University, Chennai for its MS and Ph.D. degree programmes.