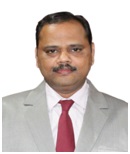 Dr. K. Samidurai, B.E., M.Tech., Ph.D., MISTE, FIE., C.Eng (I).
PRINCIPAL
Jaya Engineering College, Chennai – 602 024.
E-mail ID: principal@jec.ac.in
The objective of Jaya Engineering College is to mould the engineering aspirants into industry ready products which are the need of the hour in our country. The college keeps updating its physical and human infrastructure towards this noble cause.
As far as our students' technical exposure in line with the latest trends in engineering , employability skills and placements are concerned, the support being extended to our institution by the nearby industries of all categories belong to private and public sectors is significant.
The lush green campus in tranquil ambience and its easy accessibility make the students across India to prefer our institution to pursue their higher studies in engineering.
I assure that students who join in this institution would emerge as competent engineers in their branch of study.
Empowering youth to build a strong and vibrant nation