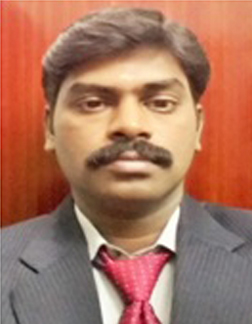 Prof. Dr. E. Kaliappan B.E, M.Tech, Ph.D FISTE
VICE PRINCIPAL
Dr. E. Kaliappan is an illustrious professor in the department of Electrical and Electronics Engineering. He has a vast experience in Teaching, Research and Administration at different levels. He earned his Bachelor's Degree in the department of Electrical and Electronics Engineering, Master of Technology in Applied Electronics and Ph.D in the area of Special Electrical Machines from Anna University Chennai. He started his Career as a Lecturer in the department of Electrical and Electronics Engineering in Jaya Engineering College and moved to R.M.K Engineering College and served as Lecturer, Senior Lecturer, Assistant Professor and Associate Professor in the Department of Electrical and Electronics Engineering. He has served as the Professor and Head of the department, Academic Coordinator, R & D head before becoming the Vice Principal of Jaya Engineering College.
He has actively collaborated with researchers in the field of Electrical Machines and drives, Control Instrumentation and Power Electronics. He has guided more than 30 UG Projects and 15 PG Projects and acted as Joint Supervisor for Ph.D. in the area of Special electrical machines and drives. He has published more than 25 papers in referred international and National journals and published more than 40 papers in the International and National conferences in India and Abroad. He has initiated and signed 12 MoU's with industries and R & D Labs for the benefit of Students and Faculty.
He has completed 3 R & D Projects titled "Solar Street Lighting Systems", "Pulsed Ohmic Heating System" and "Direct Torque Control of BLDC Motor" supported by DST and various industries. He has received 2 international travel grants from DST for presenting papers in the international conferences in Singapore and Korea. He has conducted 5 faculty development programs, 4 international workshops and 3 seminars sponsored by Anna University, IJETCSE and various industries. Besides he has conducted 2 international conferences fully sponsored by IJETCSE and CSIR.
He is life time member of Indian Society of Technical Education (New Delhi) and Member in IEI. He is reviewer in the IEEE Trans. on Power Electronics, IEEE Trans. on Industrial Applications, American Journal of Applied Sciences and International Journal of Power Electronics and Control. He is also the Editorial Board Member in the International Journal of Automatic Control Systems, International Journal of Power Electronic Controllers, and International Journal of Analysis of Electrical Machines.